Emergency Veterinary Care in Kerrville, Texas
For After Hours Veterinary Emergencies please call us immediately at 830-367-5316 – One of our veterinarians will be available to assist you.
Dr. "Cuatro" Patterson
Dr. Scott Chapman
Dr. Bill Symm
Dr. Kim Eisenberg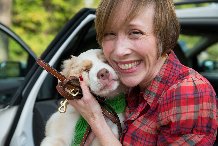 Dr. Eisenberg graduated from Texas A&M University and became a doctor of veterinary medicine in 2002.  In 2007, she founded Kerr County Veterinary Hospital.  She partners with our staffed Veterinarians to help serve both hospitals clients and patients as well as others on after hours calls.
For non veterinary emergencies, please refer to Sick Pet Helper. This tool will help in identifying the medical issue your pet may be experiencing until you can make a scheduled appointment with our veterinary hospital.
Please Note – This tool does not replace a veterinary diagnosis. Please call us at 830-367-5316 to schedule an appointment at your earliest convenience.