"We are so happy with your veterinary clinic and it's staff. Thank you for the awesome care you are providing our pets."

Kathy
"Keep doing what you're doing. That's why I have been bringing my pets to you for 16 years."

John
"You guys are the best! The service is excellent. The front desk staff is always friendly in person and over the phone and we come all the way from Pipe Creek to see Dr. Chapman! He is the best!"

Kayla
"The experience was great. Everyone was friendly and made me feel that mine and Toby's welfare were upper most in mind."

Ralph
"You are the best!! The staff is excellent and courteous . everyone makes us feel like family, the dogs love all of you ?"

Bob and Fritzi
"Emergency visit. Dr Patterson saw us quickly, explained everything, got meds. Sunny felt much better and so did we."

Ronnie
"Great Vet for a traveling pet. We have always liked your personnel and service even though our base is in North Texas. We winter in this area and hope to never have to change from your service."

Wendell and Brenda
"Great treats, helped my dog relax. Love that you are offering 6 month hearth worm shots and that you will remind me when he is due."

Mary
"Was very pleased that I was able to get a timely appointment. Staff was very friendly, courteous, and caring. Medical care was top notch."

Claudia
"I love Town & Country vets and so does Peaches. Everyone is always so polite and helpful. I always tell my friends and relatives about you and recommend you to them."

Brenda
"First impressions are made in front office and you have a GREAT staff working in there."

Wanda
"You all are the very best i drive from the east coast and the west coast just to have you all take care of my puppies and ponies."

Lee and Kathleen
"We know that if a medical issue arises we can be certain our animals will be taken care of. Staff are always pleasant Thanks!"

John and Jane
"Staff is attentive, caring, friendly and efficient. Dr. Chapman is amazing!!! Thank you all for taking such great care of our little guy, Scotty Ensley!"

Dave & Diane
"We love Town and Country and Dr. Patterson. Everyone is super sweet."

Olen and Kathy
"On Saturday one of our dogs had an allergic reaction to a sting. You took her in immediately. Quattro was kind, caring and knowledgeable. Oh, and the bill was most reasonable!"

Sonja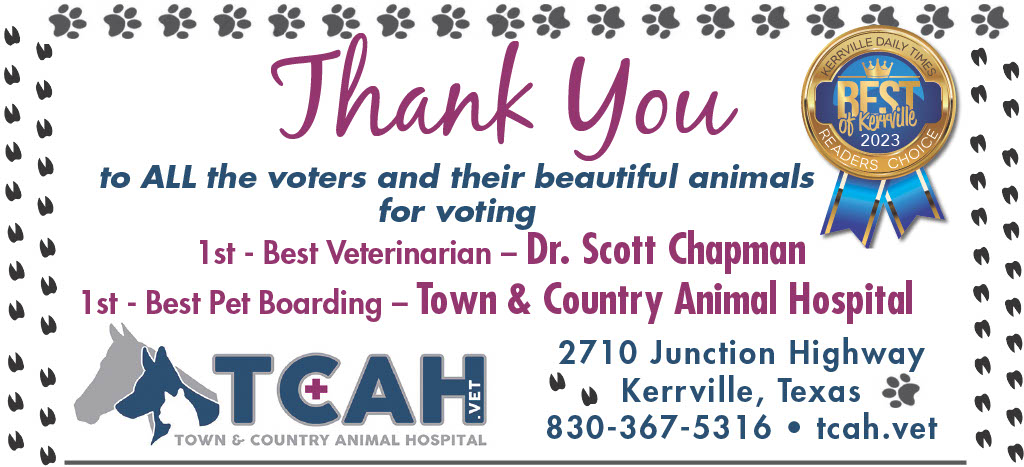 Serving the Texas Hill
Country for Over 30 Years
Town & Country Animal Hospital was established in Kerrville, Texas in the early 1970s. We continue to proudly serve the Texas Hill Country today by offering a wide range of services, including complete medical and surgical capabilities. We have a full-service, in-house laboratory, as well as radiograph and ultrasound technology for large and small animals.
Town and Country Animal Hospital is made up of four veterinarians and a team of health care professionals. Our staff is very knowledgeable and receives the best training in the latest techniques and treatments available in veterinary medicine. We strive to provide you and your pets with the best possible care and information available.
We have an extensive boarding facility to care for your dogs and cats while you are away. Your pets have a home away from home here at Town & Country Animal Hospital.
If you have any questions regarding our products or services please call our office or come by for a tour of our facility.
What to Expect
Contact Us
Only The Best in Veterinary Care
Our clinic offers a wide range of veterinary services for pets in Kerrville, TX and surrounding areas. We treat cats, dogs, horses and more!
We Only Offer the Very Best for Your Pet At Town & Country Animal Hospital
We are committed to providing you with the latest in pet health information. This is why we offer MyPet services. My Pet allows you to create a custom profile for your pet(s) in order to track medical records, request services, and more! Click the button below to explore more about MyPet.
Learn More
Schedule an appointment with us today!