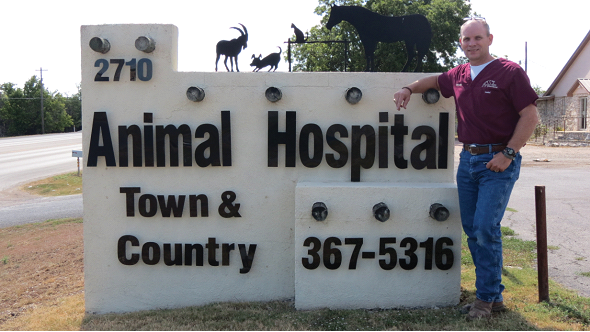 Hometown Hero
2013 TVMA General Practitioner of the Year: William B. "Cuatro" Patterson IV, DVM
By Dawn Noufer Republished from the Texas Veterinary Medical Association, Texas Veterinarian
William B. "Cuatro" Patterson IV, DVM, knew at a younger age than most what the future held for him. In elementary school, he was asked to write down what he wanted to be when he grew up. He remembers seeing the evidence on the page that his mother had kept.
"In this little-bitty first grader's handwriting: 'V-E-T,'" he recalled. "It kind of stuck then."
After years of determination, that dream became a reality for Dr. Patterson, and following nearly two decades of outstanding veterinary service, he earned the 2013 Texas Veterinary Medical Association (TVMA) 2013 General Practitioner of the Year Award.
Dr. Patterson grew up on a ranch near Leakey, Texas, where he formed a bond with a Kerrville veterinarian, Dr. Jerry Thomerson, whom he would work for throughout his high school years.
"Talking to him, following him, seeing how much everybody respected him—that's the kind of person I want to be," Dr. Patterson remembered thinking at the time.
His parents always made it clear to Dr. Patterson that they had high hopes for their son.
"It was a hundred percent support, love, everything I needed," he said. "And on the other hand it was, 'We know that you can do it, so we expect you to.'"
Dr. Patterson graduated as valedictorian from Leakey High School and went on to graduate cum laude from Texas A&M University in 1990, earning his Doctor of Veterinary Medicine degree from the school in 1994.
While at Texas A&M, Dr. Patterson continued to keep in contact with Dr. Thomerson and worked during the summers at Town and Country Animal Hospital, Dr. Thomerson's practice in Kerrville, and upon graduating from veterinary school, Dr. Patterson immediately joined the practice.
"I knew going into vet school that Dr. Thomerson was waiting for me to come home and go to work," he said.
Following Dr. Thomerson's retirement in 2001, Dr. Patterson took over as owner of Town and Country Animal Hospital, carrying on the clinic's legacy of dedicated care for animals as well as their owners.  "Every animal is attached to a human being," he said. "You've got to treat the owner as much as you treat the animal a lot of the time. Everybody's treated like they should be treated, like we would want to be treated." Delivering caring, attentive treatment isn't just nice; it's good business.
"Good medicine is good business," Dr. Patterson said. "You practice them together. You should do everything you can to learn how to run a business."
For Dr. Patterson, good business also means strategically adapting when necessary. When Dr. Patterson first joined Town and Country Animal Hospital in 1994, the practice was split fairly evenly between large and small animals. However, in the early 2000s, Kerrville's demographics shifted from rural to suburban due to an influx of retirees—and their pets—relocating to the area. Dr. Patterson estimates that today's demographics at Town and Country are 85 percent small animal and 15 percent large animal. To cater to the growing demand for small animal medicine, Town and Country Animal Hospital added a boarding facility and a surgery suite as well as equipment for bone plating, digital radiology, dental radiology and various orthopedic procedures.
"Dr. Patterson recognized this shift and set out to transform his practice from a somewhat dated mixed animal hospital to a state-of-the-art veterinary medical and surgical facility," said Scott A. Chapman, DVM, a veterinarian at Town and Country Animal Hospital.
The involved and dedicated demeanor Dr. Patterson displays at work doesn't get dropped at the threshold of his home. Dr. Patterson and his wife of 21 years, Kendall, strive to be active in the lives of their two sons, Hunter, 19, and Riley, 16.
"Anything they're doing, Kendall and I are probably more involved than they want us to be," he said. "Any sport they played, we were going to be out there, just to be in their world as much as we could."
Dr. Patterson attributes much of his strength to the support of his wife, unwavering even from the beginning.
"She's got to get some credit," he said, recounting June of 1994 as being an especially overwhelming month for the young couple. "We came to Kerrville. I had just graduated. She's nine months pregnant. We bought our first house. I just got my first job. It was kind of a shocker to have all that stuff going on at the same time."
Kendall, as a new mom in a new town, had to become used to Dr. Patterson's long hours as a new veterinarian on-call every night.
"The hours were terrible," he said. "For the first four or five years, there was a lot of work and long hours and not being home. I look back at it—doggone, she put up with a lot."
Dr. Patterson also has a deep-seated love for the town in which he lives.
"Kerrville has all the bells and whistles of a large town, but it's not too big," he said. "Everyone gets to know each other."
For a Kerrville resident, it would be difficult not to know who Dr. Patterson is. In addition to being the past president of the Kerrville Area Veterinary Medical Association, Dr. Patterson helped found the Kerrville Bark for Life Relay, is a member of the Board of Directors for Guadalupe National Bank, serves as a deacon at Trinity Baptist Church, acts as Fundraising Chairman and Scholarship Committee Member for Kerr County A&M Club, is a charter member of the Kerrville Young Men's Business League and coached basketball at the local YMCA.
Ever a stranger to resting on his laurels, Dr. Patterson's community involvement seems second nature to him.
"I've got to be doing something," he said. "I don't want to be so into veterinary medicine that I've got blinders on and I'm just reading vet journals all the time."
A contribution Dr. Patterson is particularly proud of is his involvement in the annual 4-H Veterinary Sciences Program. The program invites Kerrville students to learn basic veterinary science principles by attending procedures such as surgeries, necropsies, neuters and spays. It seems that, just as Dr. Thomerson did for him, Dr. Patterson is inspiring the next generation of veterinary professionals.
"They come, and we show them surgeries and bloody stuff," he said. "And the kids are crowded in that room, watching it with these big eyes. They love that program."
When asked what the best piece of advice he's ever received is, Dr. Patterson's response encapsulates his attitude about community and leadership involvement.
"Winners make it happen, and losers let it happen," he said.
This mantra is one he repeats not only at work but also at home to his two sons.
Dr. Patterson is a man with boundless energy and a vast and varied skillset reaching beyond veterinary medicine to business, sports and leadership. Not only is he talented and driven but also compassionate and generous with his time.
"I don't want to just sit at my house and not be involved in the community," he said. "It seems natural to me to want to give back to the community because Kerrville has been so good to me and my family."
Photo by DeEsta's Photography